FAQ'S FOR AUTHORS
Check the most common questions about publishing with Algora.
Now that your book is published let's have a smile.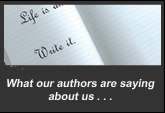 About Best Sellers
How They Landed on Top: In Fiction, Selling What Sells; In Nonfiction, Small Became Beautiful
Publishers Weekly, March 19, 2001
[. . .] A Nonfiction Perspective
There are always more shifts and changes among the nonfiction titles, since politics, economics and social issues have a more immediate impact on this group of bestsellers. What's hot and what's not depends on which entertainment and sports personalities are in the news. And let's not forget the impact of the media, especially the television. Yes, celebrity names often rule the nonfiction list, but unlike veteran bestselling novelists, the public taste in this arena is more fickle, and the 15 minutes of fame usually goes to new names.
In 1990, CBS News broadcaster Charles Kuralt led the nonfiction charts with A Life on the Road , with sales of about 602,000 copies. That figure was more modest than the #1 nonfiction bestseller for each year in the '80s, when an annual sales rate of at least 700,000 (and often into the multimillion range) was needed to garner the top spot. Three top-15 sellers -- The Civil War, The Frugal Gourmet on Our Immigrant Heritage and Homecoming -- all benefited from eponymous PBS programming. Political top-sellers included Ronald Reagan's autobiography and Millie's musing about life in the White House. International politics was represented by a book on Israel's Mossad. Sports and celebrity bestsellers included Bo Jackson, country-western singer Barbara Mandrell and a book on baseball by Newsweek columnist George Will. The 1990s runners-up included names that still resonate 10 years later -- Bob Hope, Donald Trump, Alvin Toffler, Dace Barry, Martha Stewart, Lewis Grizzard and Jane Brody.
The authors of the 1995 top-15 nonfiction titles were almost all personalities of celebrity status. In the lead was John Gray with Men Are from Mars, Women Are from Venus , with sales of about 2.5 million. Colin Power, Howard Stern, and Deepak Chopra all had million-copy-plus bestsellers. Bill Gates, Charles Kuralt, Newt Gingrich, Ellen DeGeneres, Oprah chef Rosie Daly and O. J. Simpson all made it to the top 15... [and] William J. Bennett on morality, Daniel Goleman on Emotional Intelligence and David Letterman. Fame was also the name of the game for the nonfiction runners-up. The lineup included books by Erma Bombeck, Billy Graham, Mother Teresa, James C. Dobson, Martha Stewart, Gail Sheehy, John Feinstein, Richard Preston and Andrew Weil.
Enter the 2000 group of books that caught the public's fancy. What pops out dramatically is that we have become a nation that loves its information brief, better yet in sound bites. Four of the top-15 titles are short books (or long magazine pieces), running from 100 to 125 pages in petite dimensions. In the #1 spot, with sales of more than 3 million, is the business parable Who Moved My Cheese? by Spencer Johnson. Maria Shiver, religious leader Bruce Wilkinson and Anna Quindlen are crowd pleasers, too, with inspirational and/or religion advice in smaller-format bindings... Bill O'Reilly turned his popular talk show on the Fox News Channel into a popular book. Fiction mega-seller Stephen King's first foray into nonfiction was a memoir on the writing life. The Beatles Anthology racked up more than a million in sales. And the Annual Guinness World Records continued to do well.
IN ALL - THERE WERE A RECORD NUMBER OF BOOKS WITH REPORTED 2000 SALES OF MORE THAN 100,000 COPIES THAT DID NOT MAKE A TOP-15 LIST. IN 2000 THE NUMBER WAS 36 (thirty six) BOOKS, HIGHER THAN LAST YEAR'S TOTAL OF 28 (twenty eight) , AND HIGHER THAN THE RECORD 31 (thirty one) SET BACK IN 1996.