FAQ'S FOR AUTHORS
Check the most common questions about publishing with Algora.
Now that your book is published let's have a smile.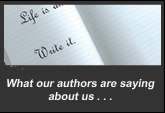 The email newsletter list is free of charge.
We do not share your e-mail address with anyone else.
Thanks for your interest in receiving information from us!

Enter your email address to receive the Algora Publishing
free email newsletter, the Privacy Update.
It is issued approximately monthly.