FAQ'S FOR AUTHORS
Check the most common questions about publishing with Algora.
Now that your book is published let's have a smile.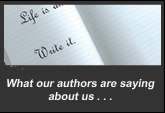 Queries and Proposals
NONFICTION: Algora publishes general nonfiction for the educated reader. Subjects relating to anthropology, business/economics, creative nonfiction, education, government/politics, health/medicine, history, language/literature, military/war, money/finance, music, nature, philosophy, religion, science, sociology, translation, travel, women's issues/studies may be considered. Algora Publishing is an academic-type press, focusing on works by American and international authors (mostly, but not exclusively), for the general educated reader.
The best way to submit a query or manuscript is by uploading your file to our website. (From the Homepage, go to Submit Your Manuscript, Upload Your File.)
A short query by email is also acceptable. Also acceptable are proposal packages including an outline with 3 sample chapters or a complete manuscript. If you send your material by mail, include a self-addressed return envelope.
Algora Publishing welcomes proposals for original manuscripts, but we do NOT handle FICTION, SELF-HELP, RECOVERY, or CHILDREN'S books.
We welcome first-time writers; we have a special program to help them outline their projects and we lead in the effort of crafting our authors' raw manuscripts into literary works.
We strive to respond within a month to queries and proposals, if they are submitted via email or with a stamped self-addressed return envelope. We also set ourselves the goal of responding within 3 months to manuscripts.
Proposals for new books, or for foreign rights and translations of previously published books, should include a description of the work, its length, and a revealing excerpt. Please include a brief biographical description of the author.
Let us know what you are working on, and we'll let you know if it sounds like a good fit with Algora.